"This investment will modernize our election infrastructure and ensure that voters can cast their ballots with confidence. The service we have received from ES&S has been second to none. It has been another step to ensuring the citizens of Jefferson County have an outstanding election experience." – Bobbie Hosclaw, Jefferson County Clerk 
Integrated Voting Technology Streamlines Kentucky Elections
19 Kentucky counties purchase end-to-end voting systems from ES&S
OMAHA, Nebr. – May 8, 2023 –Voters in 19 Kentucky counties will have a streamlined voting experience using equipment from Election Systems & Software (ES&S) during the May 16, 2023, Primary Election. The counties purchased new, integrated technology from ES&S that creates a seamless Election Day process from the time a voter checks in until they cast their ballot.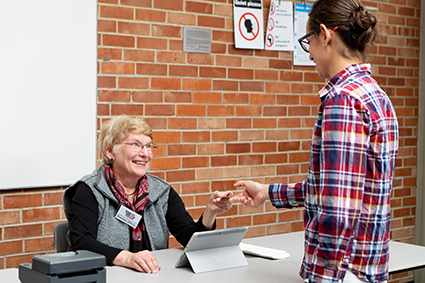 "We are excited to be adopting this new technology for our upcoming elections," said Laurel County Clerk Tony Brown. "Having one technology provider from the beginning to the end of the voting process will make Election Day smoother and more efficient, while also ensuring the accuracy and security of our elections."
The counties, which make up a little more than 35 percent of Kentucky's registered voters, are long-time users of ES&S voting and tabulation equipment, including the ExpressVote® Universal Voting System and the DS200® poll place scanner and tabulator. They recently added the ExpressPoll® electronic pollbook, which helps reduce check-in and verification waiting time for voters and increases the accuracy of ballots issued. This new addition creates an end-to-end voting solution to improve the Election Day experience for all.
"We are thrilled to introduce these cutting-edge voting systems in Jefferson County," said Jefferson County Clerk Bobbie Holsclaw. "This investment will modernize our election infrastructure and ensure that voters can cast their ballots with confidence. The service we have received from ES&S has been second to none. It has been another step to ensuring the citizens of Jefferson County have an outstanding election experience."
The 19 counties using ES&S integrated technology include four of Kentucky's largest: Jefferson, Kenton, Floyd, Laurel and Madison. The new integrated technology will be implemented in time for the next election cycle.
"These new end-to-end voting systems will provide a secure, efficient, and transparent voting experience for all voters in Kentucky," said Mac Beeson, ES&S regional sales manager. "It's an honor to provide cutting-edge solutions that help ensure that every vote is counted accurately, and every citizen's voice is heard. We're excited to continue our partnership with these counties."