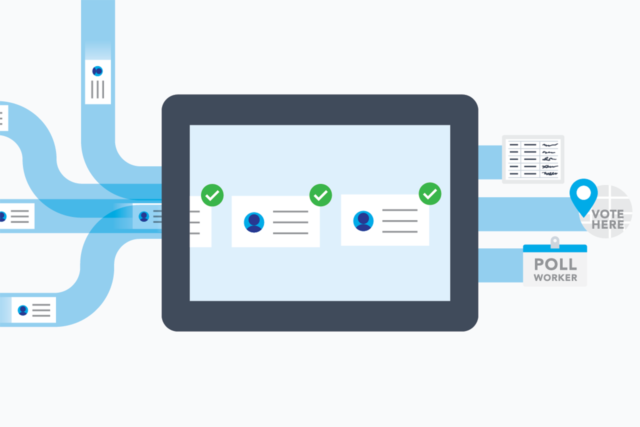 Voter Registration
PowerProfile®
PowerProfile is a voter registration and election management application for election officials to register voters and conduct elections from a central database.
This system allows for state and local jurisdictions to manage elections from the same interface. Election officials can register voters, check eligibility, prepare for absentee and early voting, recruit election workers, create pollbooks and rosters, verify petitions, and maintain voter records using a single software solution.
Our People! Our experience working with government reaches back over four decades. Through the continual development and introduction of innovative elections products, our company has emerged as the leading provider of end-to-end, fully integrated voting solutions serving four countries and 39 states in the USA. Our team is composed of seasoned experts whose mission is to support our customers' election processes from start to finish. Access to this experience is a critical component in ensuring their elections run smoothly.
Because elections are all we do, we provide 24/7 support by elections experts located in the United States, who are dedicated exclusively to voter registration. In addition to customer support, we also provide comprehensive training programs and tools, software enhancements and upgrades, systems and procedures documentation, and user group meeting facilitation and coordination.
Accuracy & Ease of Use
User-friendly interface facilitates quick and accurate data entry
Seamless voter record transfers between counties in the same state
GIS interface allows bi-directional data exchange between GIS applications and PowerProfile
Real-time comparisons of new and existing registrations against external agencies such as Department of Motor Vehicles, Department of Corrections, and others
Coding Accuracy Support System (CASS) interface allows jurisdictions using it to take advantage of postal discounts for CASS-certified mail
A mobile-friendly web interface allows voters to look up provisional and absentee ballot status, view sample ballots, and look up precinct and polling location information
Multi-functionality
Granular security utilizing role-based access controls as well as encryption of data at rest and in-transit
Integrated scanning functionality to attach additional image data to voter records, polling places, and petitions
Numerous interfaces for external products such as electronic pollbooks, ballot-on-demand printing, and electronic ballot delivery
Full absentee tracking from application request through ballot return (including all mail elections)
Generates notices such as ID cards, poll worker notices, and others
Audit/Activity/Notice logging and reporting
Robust reporting, with the ability to produce notices/labels/reports and data exports
NCOA (National Change of Address) support
HAVA and NVRA compliant
Need more information?
That's why we're here. The dedicated ES&S representative for your state can help you determine the best solutions for your jurisdiction.