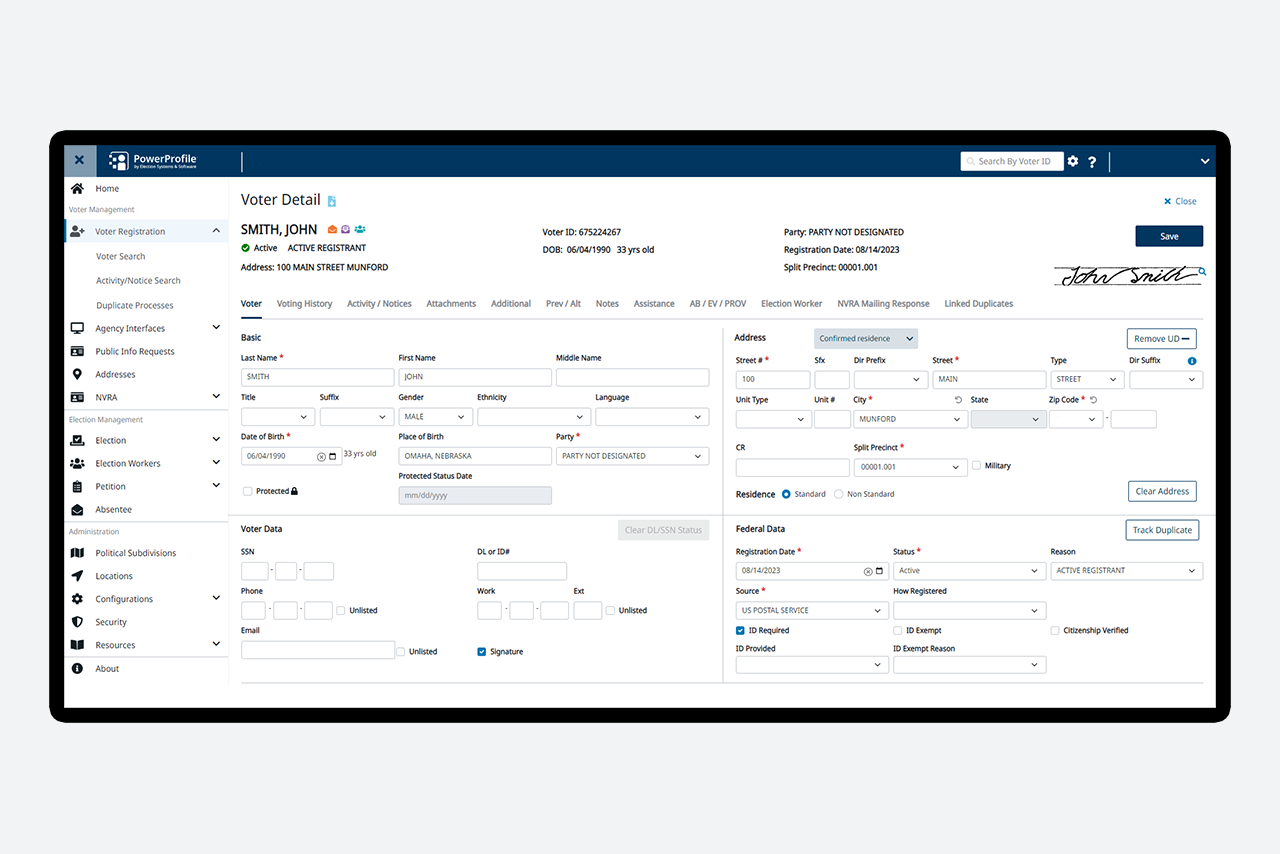 Voter Registration and Election Management
PowerProfile®
PowerProfile is a voter registration and election management application for election officials to register voters and conduct elections from a central database.
This system allows for state and local jurisdictions to manage elections from the same interface. Election officials can:
Register voters
Check eligibility
Prepare for absentee and early voting
Manage election workers
Create pollbooks and rosters
Verify petitions
Maintain voter records
Fully Integrated Voter Registration and Election Management Solution
The HAVA-compliant features of PowerProfile provide unique statewide identifiers to voter records, allow for statewide duplicate checking, and are customizable to meet the customer's specific requirements. In PowerProfile, local jurisdictions have total control over their voter registration data through role-based access.
PowerProfile is scalable and can be deployed for a single county, as well as for an entire state and all counties within that state.
Seamless voter record transfers between counties in the same state fulfills the Help America Vote Act (HAVA) requirement to maintain previously recorded data and single voter records without manual entry.
GIS interface allows bi-directional data exchange between GIS applications and PowerProfile. Provides the ability to maintain addresses in a single repository; reduces user-created addressing errors.
Real-time comparisons of new and existing registrations against external agencies such as the Department of Motor Vehicles, Department of Corrections, and others protects against fraud by ensuring only eligible voters can cast a ballot.
Integrated scanning functionality to attach additional image data to voter records, locations, and petitions provides a more complete picture, all in one solution, when researching a voter record. No more searching saved files or, worse, thumbing through paper files. Helps streamline the workflow and improves data entry accuracy and efficiency.
Numerous interfaces for external products such as electronic pollbooks, ballot-on-demand printing and electronic ballot delivery provide seamless integration and ensures efficiency and data integrity.
Comprehensive and efficient processing and tracking of absentee applications and outgoing and incoming ballots.
Generates notices such as ID cards and election worker notices, eliminating the need to produce commonly used correspondence outside the system and improving accuracy and efficiency.
Robust reporting with the ability to review data as a PDF, CSV or TXT file eliminates the need to produce commonly used notices, labels and reports outside the system, improving accuracy and efficiency.
NCOA (National Change of Address) support
HAVA and NVRA compliant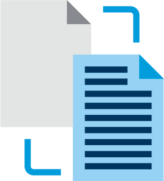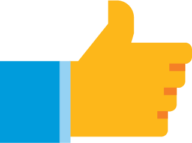 Great User Experience
User-friendly interface facilitates quick, accurate data entry with fewer mouse clicks and less manual entry and repetition.
Helps ensure a smooth voter check-in on Election Day. Poll workers can be confident the voter information is accurate because it is validated against external agency data, including the DMV and the Department of Corrections.
Familiarity with an integrated suite of applications enables administrators to navigate different aspects of the election process efficiently, reducing the learning curve and enabling quicker responses to evolving situations.
Security You Can Count On
PowerProfile was designed and developed with security as a primary attribute and utilizing a defense-in-depth approach. PowerProfile is hosted within the ES&S Empower hosting solution, which was built exclusively to house critical applications such as PowerProfile. For security and continuity, Empower hosting features:

SSAE 16 certified and PCI compliant facilities
Physical and virtual firewalls
Monitored and managed server for guaranteed uptime
Anti-virus and anti-malware
Intrusion detection and prevention; data integrity checking
Distributed Denial of Service (DDoS) prevention
Data backups, system redundancy, and disaster recovery

Granular security utilizing role-based access controls as well as encryption of data at rest and in transit improves election administration operational efficiencies. Makes it easier to assign, modify, add and delete roles and responsibilities, enabling more effective access management to confidential data. Supports privacy and confidentiality requirements regarding how data is accessed and used.
Audit/activity/notice logging and reporting promotes security and auditing of activity within the system.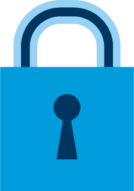 VoterView
Voter Registration Portal
Convenient Access to Voter Information
VoterView is an online voter registration portal that integrates with PowerProfile. VoterView provides voters with a convenient and accessible way to access voter registration and related election information.
ES&S' VoterView portal allows voters to enter personally identifying information to access their voter registration information, location (or any location based on the entry of an address), provisional ballot status and absentee ballot status. VoterView also includes an optional election worker management portal where election workers can confirm their election eligibility, schedule classes and check their payment status.
VoterView is highly configurable and allows administrators to define the visible and required search fields and fields displayed on the detail record for all the VoterView searches. Administrators can also set up VoterView to display links and attachments, limit the date ranges for election searches and set up partial name searches, among many other setup options. Administrative users can upload sample ballot images to be displayed
on the voter record for a particular election.
Main Search Page
Voters can view their registration information and determine their polling location.
Administrators can customize the required search criteria and the web page look and feel, including adding state seals, links to other important agencies/resources and social media pages.
Polling Place Information
Voters can find their polling location on a map or by entering their address into the search. Additional polling location information can be found here, such as hours of operation and how to access the location.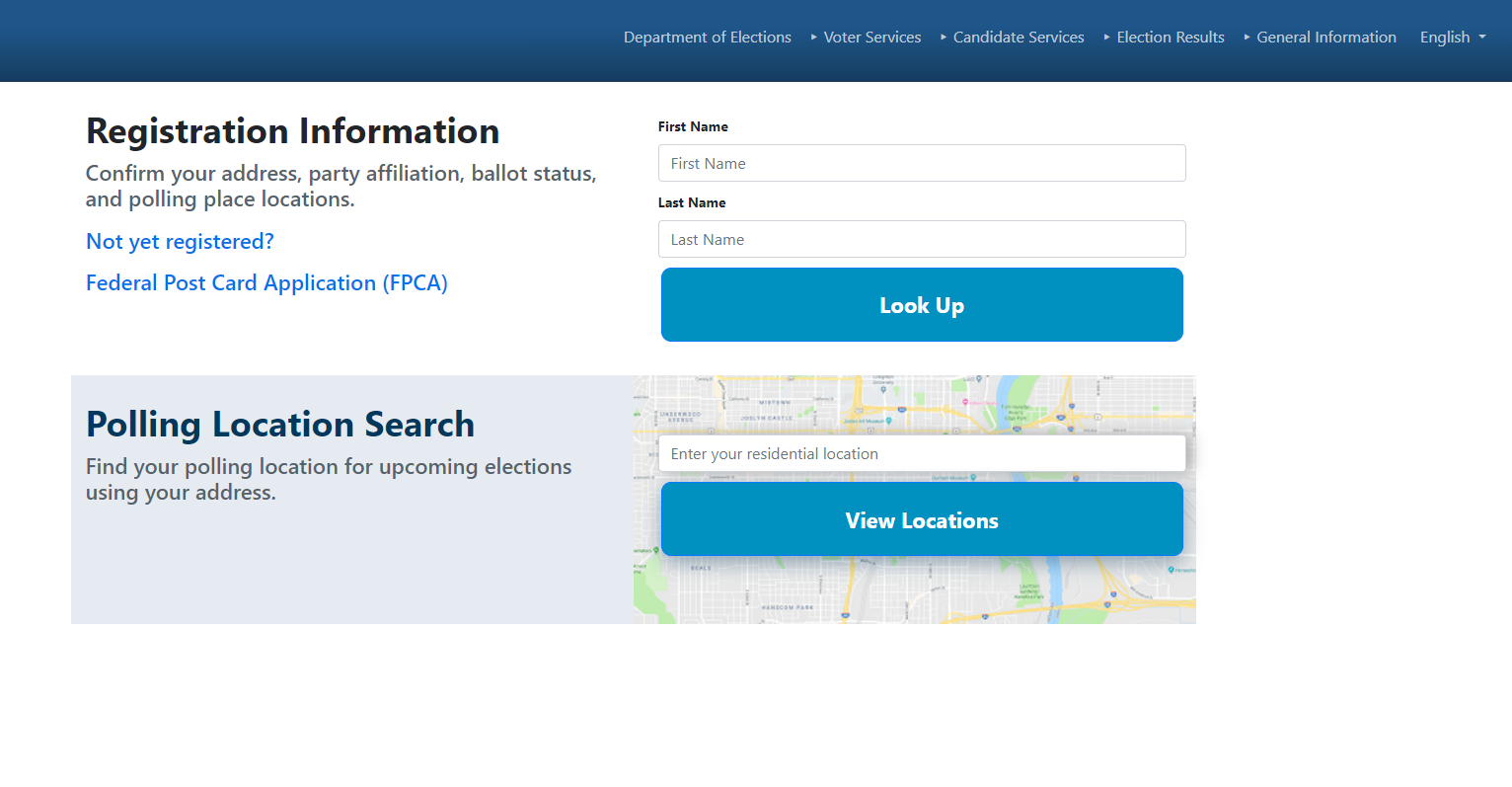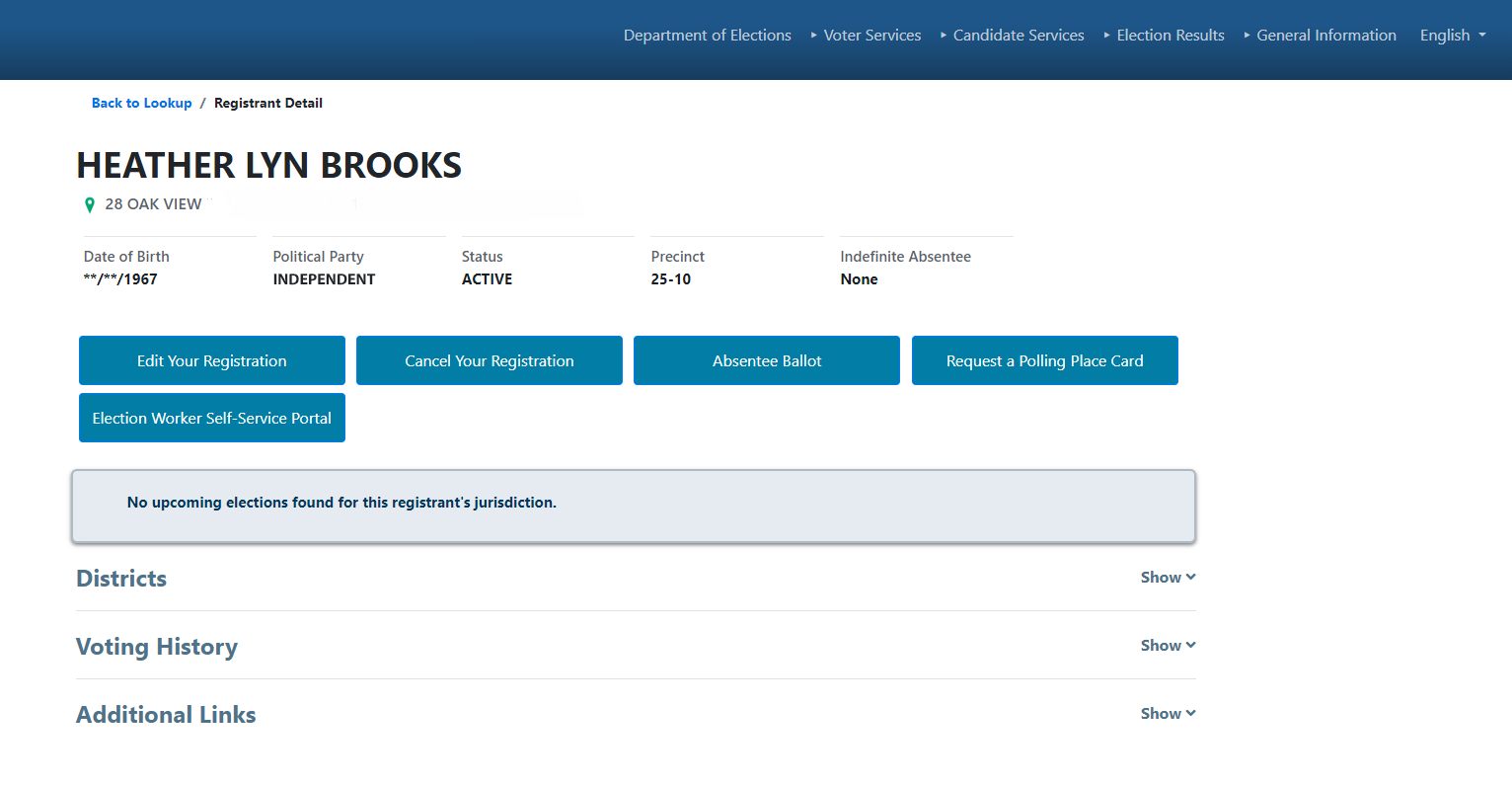 Voter Detail and Information
Users can edit registration information, cancel a registration, request an absentee ballot, view/update election worker information, view political subdivision information and view voting history.
New Registration
Voters who are not registered can complete their registration and verify eligibility via the VoterView portal. The process is intuitive and guides users through a step-by-step process where all required information must be completed before moving to the next step.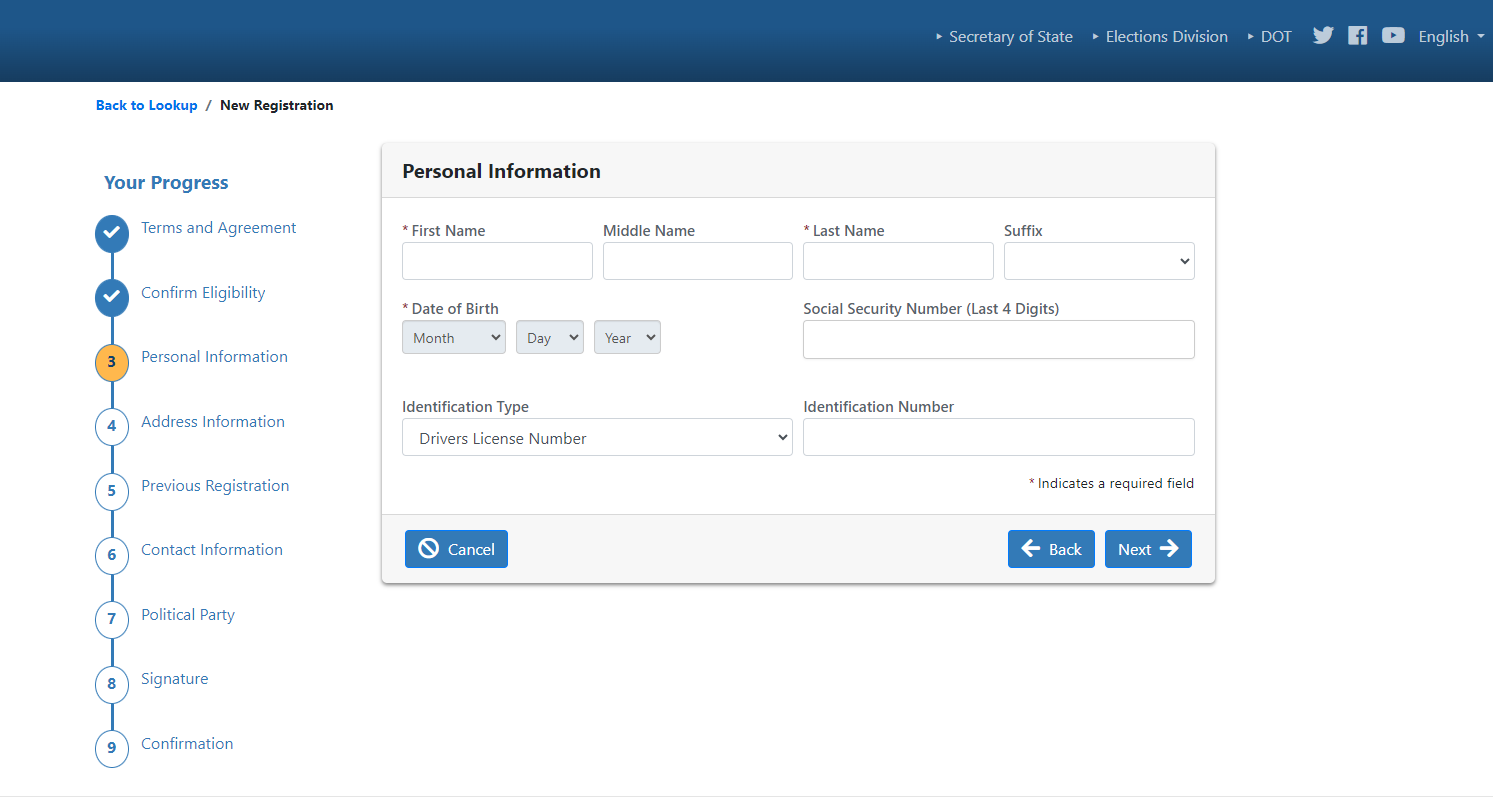 Absentee Status
Users can see the status of an absentee ballot, including the sent/received dates and reasoning for a rejected ballot.
Why Choose PowerProfile and ES&S?
Our people! Our experience working with government reaches back over four decades. Through the continual development and introduction of innovative elections products, our company has emerged as the leading provider of end-to-end, fully integrated voting solutions serving four countries and 10 states in the USA. Our team is composed of seasoned experts whose mission is to support our customers' election processes from start to finish. Access to this experience is a critical component in ensuring their elections run smoothly.
Because elections are all we do, we provide 24/7 support by elections experts located in the United States, who are dedicated exclusively to voter registration. In addition to customer support, we also provide comprehensive training programs and tools, software enhancements and upgrades, systems and procedures documentation, and user group meeting facilitation and coordination.
Need more information?
That's why we're here. The dedicated ES&S representative for your state can help you determine the best solutions for your jurisdiction.