Disability rights advocates, who joined a public voting equipment demonstration at the New York State Capitol in honor of Legislative Disabilities Awareness Day Albany on May 29, "absolutely love" the Election Systems & Software ExpressVote XL.
Advocates for Individuals with Disabilities Explore Universal Voting Technology to Improve Accessibility
ALBANY, New York – June 3, 2019 – As part of the campaign to improve access to voting, disability rights advocates joined a public demonstration of a new secure voting machine that would dramatically improve the experience of voters with disabilities during Legislative Disabilities Awareness Day at the New York State Capitol in Albany on May 29.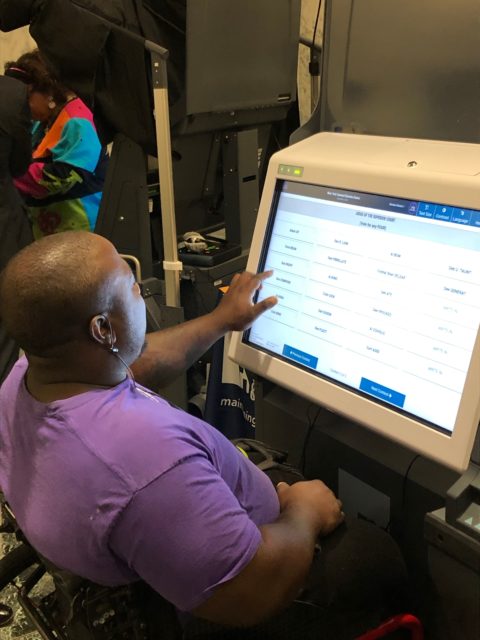 Advocate Dustin Jones, from Brooklyn, was among the many who used the Election Systems & Software (ES&S) ExpressVote XL full-face universal voting system to fill out a sample ballot, just as if voting in a regular election, easily completing the process and verifying their selections.
"I absolutely love it," said Jones, who attended the event with a group from the Center for Independence of the Disabled, New York. "It's easy to use and very responsive. I also think it's very inclusive. I've been voting since I was 18 and using a wheelchair for the past eight years. All of the little things that they have taken into consideration with this machine are going to make people with disabilities want to come out and vote."
The secure, accurate ExpressVote XL uses touch-screen technology and produces a verifiable paper record for tabulation. It is also fully compliant with the Americans with Disabilities Act, providing voters the option to navigate ballot selections independently using various ADA support peripherals, creating an intuitive vote selection process through the use of screen prompts, symbols and optional audio. Any and all of these features can be used by voters without poll worker assistance.
Voters can also verify the printed paper record using the same accessible devices they used when marking the ballot. Not only does this method provide greater accessibility for the blind and those with low vision, these features also support voters with conditions such as severe arthritis, Parkinson's disease and other conditions that make filling in a bubble with a pen difficult. In addition, the machine adjusts to a height comfortable for voters using a wheelchair.
"We are glad we could take part in this event and give these voters the opportunity to experience the machines and provide us their feedback," said Judd Ryan, Senior Vice President of Sales at ES&S. "ES&S is fully committed to giving all voters the ability to vote independently and enjoy the same voting experience."
Millions of eligible voters across New York State are individuals with a disability, including nearly 400,000 New Yorkers who are visually disabled. In addition, an estimated 16.9 percent of non-institutionalized veterans nationally between ages 21 and 64 have a service-connected disability. New York State is home to approximately 1 million veterans.