ExpressPoll is an established and proven product within the ES&S portfolio. ExpressPoll features Microsoft Surface Go, which provides the security, portability and usability poll workers need.
FIRST PUBLISHED ON Microsoft's Customer Stories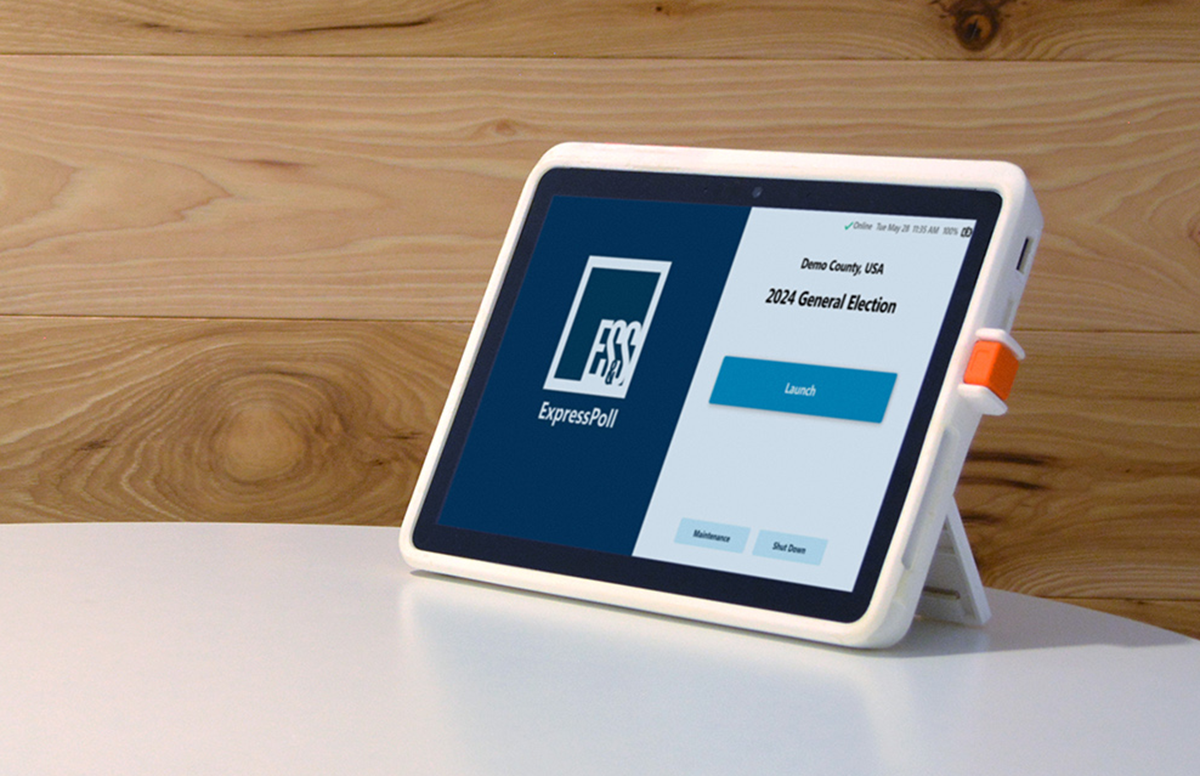 Industry-leading solutions from Election Systems & Software (ES&S) help with pre-election planning, the process of running elections, and with auditing and reporting after voting has taken place. A hugely popular part of its portfolio is the ExpressPoll electronic pollbook, which enables election officials to manage voter information on Election Day. The latest ExpressPoll generation features Microsoft Surface Go, which provides the security, portability, and usability poll workers need in a compelling package and at a competitive price point.
When Surface Go was released, we recognized that the form factor was perfect for what we needed. Small, powerful, portable, and robust.
The search for the right candidate
Elections industry leader Election Systems & Software (ES&S) has provided voting systems and services to election administrators for more than 40 years. One of ES&S's key product offerings, the ExpressPoll electronic pollbook, is used by election administrators to search registered voters, validate voter information, and determine required ballot type—all of which are essential to the election process.
ES&S has sold and supported electronic pollbooks for roughly 15 years.­­­­ But while the company's previous product was popular, it was also a little outdated, and ready for more than just a facelift. In the past, ES&S had produced desktop terminals and experimented with offering portable Windows CE–based devices, but began to recognize there were more and more competing solutions entering the marketplace, including solutions based on Apple consumer tablets. However, none of these competing solutions offered the combination of tough reliability, immediate usability, longevity, and commercial pedigree that ES&S was looking for in its next-generation pollbook.
ES&S ExpressPoll Product Manager Bridgette Richardson and her team developed a comprehensive list of requirements, among them a business or enterprise-class device on a proven platform. It had to be lightweight, usable, and have great graphics and all-day battery life. It also had to be secure, compliant with federal and state mandates, and easily and safely connected to broadly deployed industry-standard Microsoft infrastructure. Bridgette remembers, "We looked into other tablets within the marketplace but had little success finding anything that met our requirements. We even considered developing a proprietary device."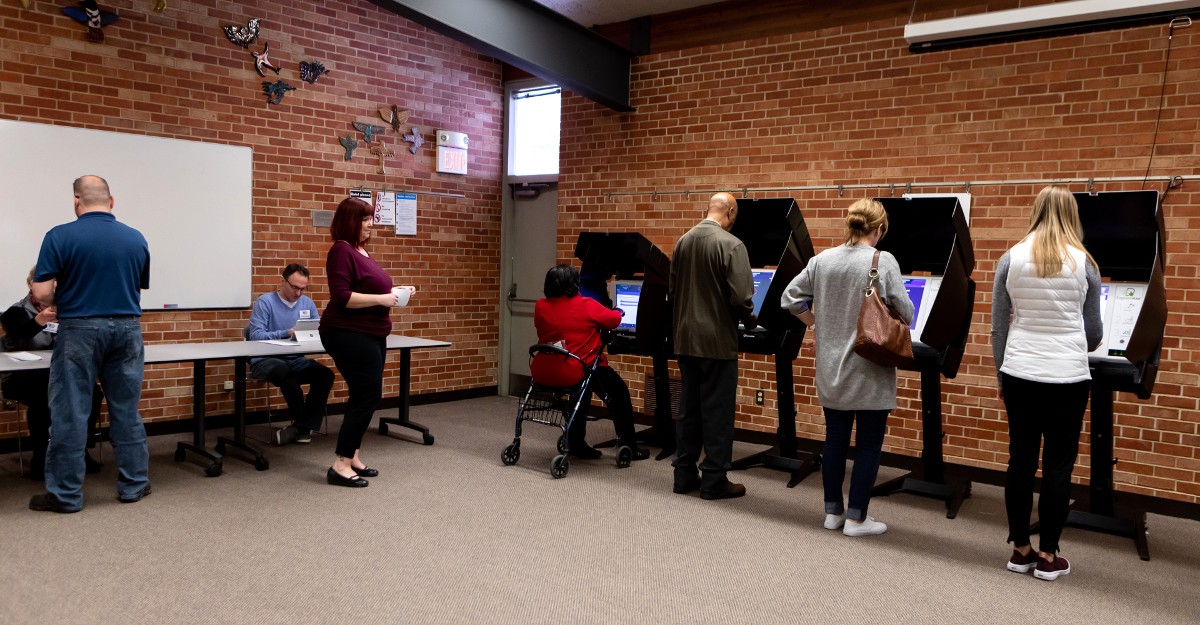 Surface Go leadership qualities
In 2017, when Microsoft announced the release of Surface Go, Bridgette and her team immediately recognized the opportunity. "We've always used Windows and Microsoft-based systems. When Surface Go was released, we recognized that the form factor was perfect for what we needed. Small, powerful, portable, and robust," says Bridgette. The new Surface Go tablet was designed for the Windows 10 ecosystem, an important factor in ES&S's adoption of the device for the ExpressPoll pollbook. Surface Go offered a familiar and usable interface, along with a hardened, single-purpose device.
The Surface Go–based solution includes powerful Windows features and can be locked down with a Windows kiosk configuration that prevents any potentially disruptive updates, helps secure the device, and allows access only to the provisioned ExpressPoll application and associated services. That's a major advantage in helping ensure consistent device performance, and in preventing unpredictable and potentially disruptive reconfiguration in the field. After the April 2021 primary election, Clay County Missouri Election Board Director Patty Lamb said, "One of the biggest problems with our previous Apple-based pollbook product was the constant need to update, update, update, update, and sometimes they would update on Election Day! When that happened, the iPad would be out of service."
ES&S customer Alan Helms, Deputy Director of Registration and Elections in York County, South Carolina, compares his experience with the ExpressPoll to alternatives that, in the past, have required a lot of administrative support on Election Day. "With our previous system, poll workers had full access to the device. The limited user access ExpressPoll provides running on Windows 10 is a huge benefit for us; it helps on a lot of fronts," he says. "I feel confident we will have a smooth Election Day check-in process because it helps prevent technical issues, which reduces phone calls to our office and the number of times technicians have to go to polling locations to address issues."
The winner by a landslide
As is typical with more conventional appliances, the Surface Go solution has longevity. It takes advantage of the Microsoft Long-Term Servicing Channel (LTSC), designed for applications where features and functionality must not change over time. Bridgette notes that this is an important market differentiator for ES&S's product. "Microsoft has committed to providing support for our operating system through January of 2029. This essentially provides a guarantee that the ExpressPoll will operate securely and effectively well into the future," she says. That's also important for ES&S customers because, she adds, "within that life cycle, they only need to purchase our Surface Go–based solution once versus needing to buy the competitor's products twice."
Functionally, Surface Go was a natural choice to refresh ExpressPoll. It can be readily provisioned before it leaves ES&S without the need for any further customization, and election staff find the familiar Windows-based interface intuitive and accessible. Behind the scenes, the devices are secured to protect data on the device, in transit and in storage. Government-accredited laboratories test for hardware and software integrity, ensuring devices are fully compliant with mandatory election regulations.
Poll workers find the new ExpressPoll device easy to handle, easy to use, and overall easy to like; its popularity demonstrates that. And it's also a great business choice, allowing ES&S to offer the solution at the right price point.
The response we've received about the product has been extremely positive. We have had upwards of 14,000 units deployed in the field over the course of the last year. "

A bright future for ExpressPoll
ExpressPoll is an established and proven product within the ES&S portfolio. And Surface Go is an essential platform for ExpressPoll—a solution that earned its stripes through rigorous real-world field testing.
"We've had great success with the device," Bridgette says. "The State of South Carolina rolled out 5,000 of these new pollbooks literally weeks before the election, and everything went smoothly. I think that speaks a lot to the stability of the platform, the tablet, and the overall design."
ES&S continues to keep an eye on ensuring ExpressPoll maintains its market edge. The company is always looking to improve the ergonomics of the device and is planning design updates in the future. "Thanks again to Microsoft in helping us find partners who are members of the Designed for Surface program," Bridgette says. "We've been working with enclosure manufacturers to evolve the ExpressPoll's design further."
Bridgette plans to strategically maintain the edge ES&S has gained from using Surface and the Windows ecosystem, noting that she intends to "compete but remain different, continue to embrace the environment predominantly used in the government sector, which is Microsoft."
We've had great success with the device. The State of South Carolina rolled out 5,000 of these new pollbooks literally weeks before the election, and everything went smoothly. I think that speaks a lot to the stability of the platform, the tablet, and the overall design."