The ExpressVote is a modern, ADA-compliant ballot marking device, which allows those with visual disabilities to mark their ballot unassisted.
Board Approves New Election Devices to Help Visually Impaired Voters
NEWS PROVIDED BY Wake County, North Carolina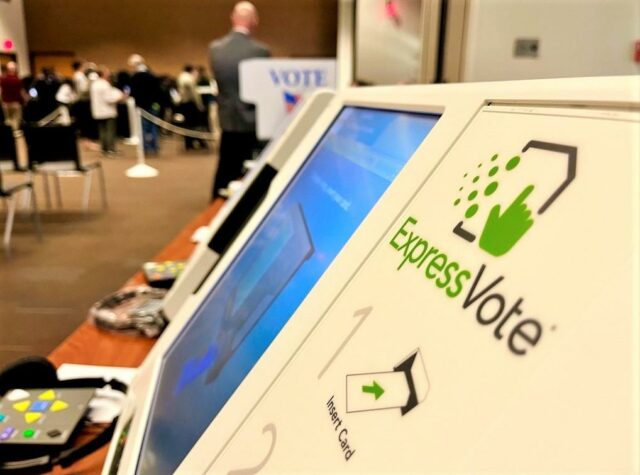 WAKE COUNTY, N.C. – March 20, 2023 – The Wake County Board of Elections and Board of Commissioners renewed their commitment to accessible and secure elections for people of all abilities today with the approval to purchase hundreds of new, specialized ballot-marking devices. Available at every Wake County precinct and Early Voting location, these state-of-the-art devices will provide visually impaired voters with a simple and inclusive election experience.
"We pride ourselves on creating the same easy, secure voting experience for every eligible voter regardless of their physical ability," said Erica Porter, Chair of the Wake County Board of Elections. "Our team did an incredible job maintaining and servicing our previous devices, but it's time to make the upgrade so voters can be confident we're using the latest technology compliant with the Americans with Disabilities Act."
One in four adults in North Carolina have some type of disability. In Wake County, according to the most recent Community Health Needs Assessment, nearly 18,000 are visually impaired. These devices help voters by utilizing intuitive interfaces, touch screens, headphones, audio-tactile keypads and braille legends.
Last month, as required by the State Board of Elections in North Carolina statute 163-165.9, Wake County Elections staff, the full Elections Board, election volunteers and members of the public tested the equipment in a mock election prior to moving forward with approval.
"All of our Board members had a chance to vote on the devices, we had some of our most dedicated and seasoned election officials and members of the general public come and test as well," said Wake County Board of Elections Director Gary Sims. "Remember, we use an all-paper voting system in our county and these devices are not tabulating votes, rather they are giving members of our community with disabilities the chance to vote a ballot confidentially."
The current ADA-compliant ballot-marking devices from AutoMark were purchased by Wake County in 2006 to help serve this population, however, they surpassed their life expectancy and are no longer in production. Elections staff will now purchase 275 ExpressVote devices to replace them. The $1.4 million for this project had already been planned and appropriated in the County's Capital Fund.
The ExpressVote is a modern, ADA-compliant ballot marking device compatible with Wake County's current election equipment. It allows those with visual disabilities to mark their ballot unassisted. The device has options for keypad, braille and voice assistance to direct them throughout the process. The devices can serve both seated and standing voters. Contrast, zoom and volume can all be adjusted to make text more readable. And they can accommodate more than 15,000 different ballot styles.
The devices will be rolled out for the Town of Cary municipal election and City of Durham primary election on Oct. 10 and during the Nov. 7 municipal elections of 2023.
This vote and purchase support the Commissioners' Great Government Goals 2.2 and 2.3, which include advancing services to address communication barriers and implementing diversity, equity and inclusivity initiatives.