Leading election officials from Texas to North Carolina and Utah to Maine place their trust in ES&S.
Why ES&S?
Customers tell us their partnership with ES&S has a lot to do with the HIGH-SECURITY STANDARDS we hold ourselves to from product development to ongoing sustainability.  Take Jefferson County Kentucky, for instance. In September 2017, they decided to continue their nearly decade-long partnership with ES&S and upgrade to the modern, secure and reliable Power Couple, the ExpressVote® and DS200®…

"Voter confidence is incredibly important, and it's my job to ensure that the elections system offered to our citizens is of the very best quality," Bobbie Holsclaw, Jefferson County Clerk said. "We are always looking for ways to improve our services to the residents of Jefferson County, and that's why we selected the ExpressVote Universal Voting System and DS200 precinct-based scanner. With this modern, secure and reliable system, voters can be assured that our election process meets the very highest of standards."
Just to the south, Tennessee officials concur. Throughout 2016 and 2017, election officials in 10 Tennessee counties conducted detailed, comprehensive and competitive Request for Proposals. You guessed it; ALL 10 evaluations confirmed that ES&S delivers the best electronic paper-based voting options. Ed Kuncitis, Sevier County, Tenn. Administrator of Elections put it this way:
"Sevier County is looking forward to continuing our partnership with ES&S and very excited to be using a new voting system that provides the best of electronic and paper-based voting! It was important for us to work with a reliable company, which builds systems that have a positive impact on parts of the election process. We are confident that our staff, the voters and the poll workers will love the new system."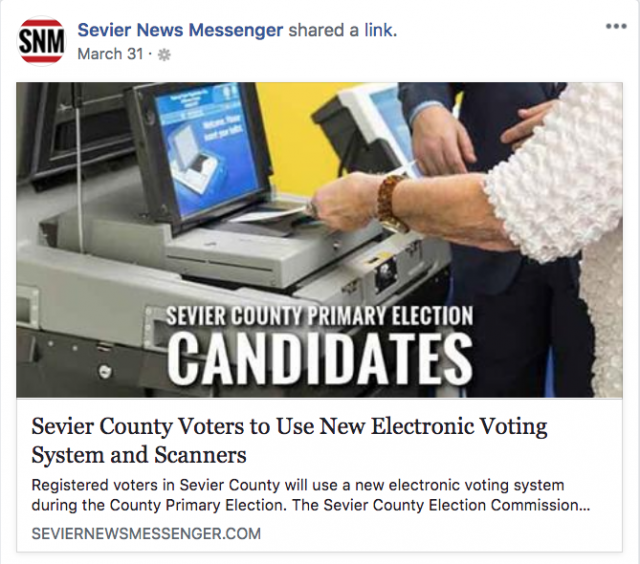 We're positive that the voter confidence Ed talks about has a lot to do with the ease-of-use of our voting systems both for voters and for election workers, plus our security record. That's how the voters, election workers and election board employees in Kansas City Missouri feel:
"The (ES&S voting equipment) demo surveys, along with months and months of research by our staff confirmed that the ES&S systems are the easiest for every age of voter to understand and use; fast for both the voters and election officials; the most economical; and most important, gave people a sense of confidence that their votes will be secure," Lauri Ealom, Democratic Director of the Kansas City Election Board, said when referring to their decision to switch to ES&S.
We appreciate Lauri's view. Voter confidence in the election process is vital, so that's why we've spent decades developing secure, scalable and flexible industry-leading hardware and software election solutions. Doesn't matter if there are 300 voters or 3 million voters. Everyone deserves to have their vote securely counted. That's why we've got solutions for needs and challenges of EVERY SIZE OF ELECTION and EVERY ELECTION SETTING.
In November, after a comprehensive assessment of five different election systems vendors, the State of Utah designated ES&S as the state's voting system provider of choice declaring that ES&S will provide the best value to the state:
"Through a careful and thorough procurement process, the state of Utah has chosen ES&S to lead Utah into the next generation of voting equipment," said Utah Lieutenant Governor, Spencer J. Cox. "ES&S offers a wide range of voting equipment options, and I'm confident their secure and innovative election solutions will fit the needs of each county."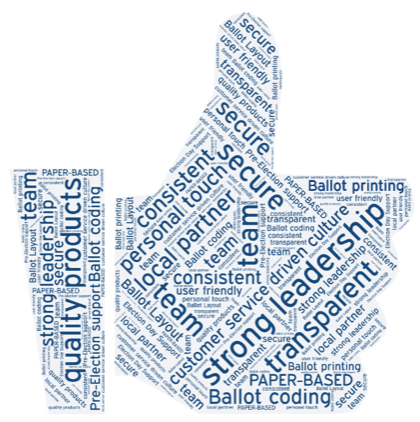 How do we do this? Our team of seasoned professionals works closely with election administration partners. We listen. We facilitate customer-focus groups to gain a better understanding of voting trends. We watch, learn and analyze the various methods and processes different jurisdictions employ, all with the goal of ensuring voters have the best election day experience. Here's our CEO's view:
"We're driven to provide products and services that deliver on the highest security standards," Tom Burt, ES&S President & CEO said. "And even though technology is part of the solution, we put human connections first. Understanding specific customer needs and being sensitive to voting behavior helps ES&S deliver a stronger and more enhanced partnership and that results in unsurpassed customer satisfaction."
We appreciate our customers and the demands on them. Finding auditable and secure election solutions, and simplifying election management isn't easy. We're dedicated to lightening that burden for officials and continuing to build voter confidence in America.