The servicemen and women who work at Election Systems & Software are shining examples of dedication and commitment to a greater purpose. They inspire us to do our best every day. That's why ES&S is honored to receive a prestigious award that recognizes employer support of employees who are members of the National Guard and Reserve.

The Employer Support of the Guard and Reserve (ESGR) recently presented the Above and Beyond Award to ES&S. This award recognizes employers who go above and beyond the legal requirements of the Uniformed Services Employment and Reemployment Rights Act by providing their Guard and Reserve employees additional, non-mandated benefits such as differential or full pay to offset lost wages, extended health benefits and other similar benefits.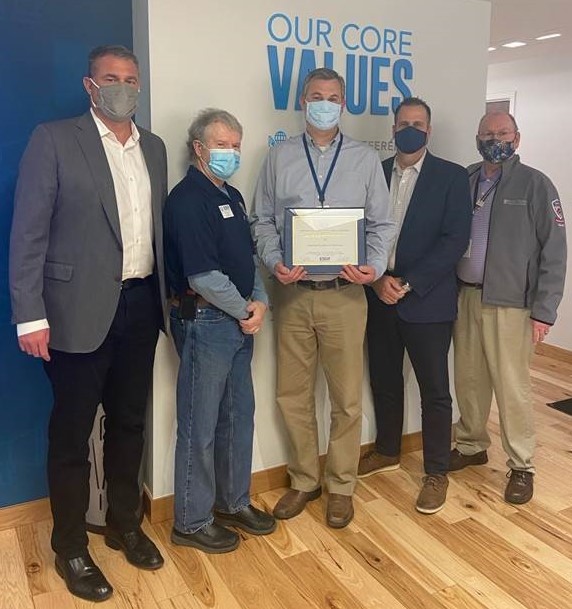 "We are proud to offer our support and flexibility to our military employees," said ES&S Vice President of Human Resources Vicki Nelson. "We value the contributions of our servicemen and women and are grateful for their service to our country to protect our freedom."
The Above and Beyond Award is presented to a limited number of employers who have had at least one of their supervisors or managers recognized with a Patriot Award for their efforts in supporting employees who are service members. In late 2019, Director of Technical Services Mike Anthofer received the Patriot Award after being nominated by U.S. Army National Guard Specialist and ES&S Senior Technical Services Specialist Kawi Taffa. Taffa's strong narrative in Anthofer's nomination prompted the committee to present the employer award to ES&S.
"ES&S and our employees in the National Guard and Reserve have a shared set of values," said ES&S President and CEO Tom Burt. "This naturally fosters a high-performance working relationship built on teamwork, dedication to excellence and seeing the bigger picture of how our work impacts our country and the world."
The ESGR was formed in 1972 and is part of the Department of Defense. The ESGR works with employers and their employees who are also members of the National Guard and Reserve so that everyone understands their rights and responsibilities, whether it involves a long drill weekend or a long overseas deployment.