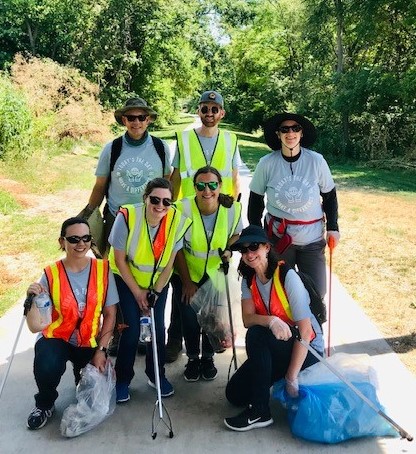 Volunteerism was instilled in Amanda Sirian at a young age.
The ES&S staffer remembers how as a young child her family sponsored other families during the holiday season, buying them food, clothing and gifts.
"Since then, I've always tried to give back and use my talents to help others," she said. "If everyone would help just a little bit, it would be a much better world for all of us."

Today, Amanda is a mentor for 8th and 9th graders through Partnership 4 Kids, a goal-setting and group mentoring program for students in Omaha, Neb. During the pandemic, she pivoted to virtual mentoring to continue her vital volunteer work.
But her volunteerism work doesn't end there. Utilizing her marketing and web design skills, Amanda also worked with Technology Consulting Solutions to help develop an interactive map for The Empowerment Network. This organization works to transform the lives and economic conditions of Omaha's African American community. The map she helped to create connects residents with vital resources in their neighborhood, including food, housing, mental health and more.
It's because of volunteers like Amanda that National Volunteer Week takes place each year. The weeklong recognition is an opportunity for community organizations to thank volunteers for their contributions and encourage volunteerism. Companies that embrace social responsibility offer their employees paid time off to participate in community service projects. ES&S provides employees with one community involvement day each year so that they can give back to the organizations that are important to them.
"Our employees are making valuable contributions through their charitable work, and we want to support them in their activities," ES&S Vice President of Human Resources Vicki Nelson said. "Some employees lend their help for a few hours here and there, while others find it a great opportunity to collaborate with their co-workers and build teamwork."
Our employees are making valuable contributions through their charitable work, and we want to support them in their activities."
The pandemic took its toll on volunteerism and forced many organizations worldwide to find new ways to reach the people they help. Senior LMS Administrator and Instructional Designer Steve Hess volunteers for Together, an organization with a mission is to prevent and end homelessness in Omaha and surrounding communities. He has a personal connection to Together, as his wife is an administrator for the organization.
During the pandemic, Together had to find new ways to get food and other resources to the people, a need which doubled over the past year. He helps however he can, whether building shelves or helping organize and stock the pantry after large donations. Sometimes he'll take more paid time off to volunteer time with the organization.
"I didn't have a community involvement day with previous employers," Hess said. "Giving back is so beneficial to employees and the organizations we help. You may never know whose lives you are going to affect, but I do guarantee you will affect someone's life."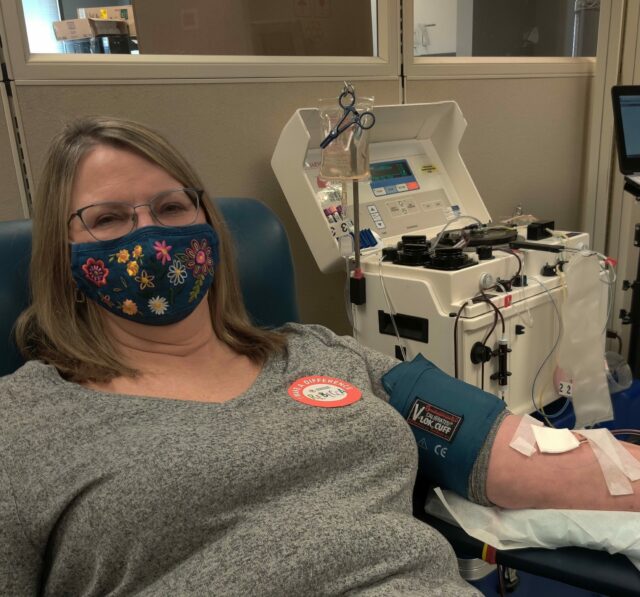 When the pandemic struck, Senior Supply Chain Specialist Becky Beutler had been volunteering for various organizations but put it on hold for health and safety reasons. That's when her desire to give back shifted to donating blood through the American Red Cross. Her most recent donation was a Power Red donation, which allows a donor to safely give two units of red blood cells during one donation.
"I had donated years ago as I have a rare blood type," she said. "It's so easy to do, and donations are still urgently needed. It's a wonderful way to impact others' lives."
Other employees are looking forward to getting together with their teams and participating in group volunteering activities again. In 2019, Proposals Manager Danielle Boyce organized a teambuilding activity for 12 employees in her department to participate in a litter cleanup through Keep Omaha Beautiful.
"We were able to enjoy the outdoors and rid approximately two miles of public parks and trails of about 12 bags of trash and debris," she said. "We felt compelled to make a positive collective impact on our community and did so in our very own backyard at nearby parks and along the trails."