"We look forward to engaging our federal and state counterparts as we demonstrate that technology can promote election integrity and security and offer the opportunity for voters to cast their votes privately and independently." – Brandon Clifton, ES&S SVP of Government Affairs and ACET's Secretary/Treasurer
Election Technology Providers Form New Council to Advance Accurate, Secure, and Accessible Elections
NEWS PROVIDED BY  the American Council for Election Technology (ACET)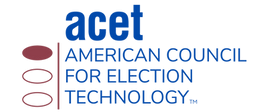 The leading providers of voting systems and services in the U.S. have come together to form a new organization – the American Council for Election Technology (ACET).
ACET is a national, nonpartisan trade association of organizations that provide polling place technology and services to State, Local, Tribal, and Territorial (SLTT) governments. This diverse community delivers voter registration, pollbook, tabulation, and other technologies and support to election jurisdictions throughout the country.
"The founding organizations created the council so that we can work together to foster a better understanding about election technology," said Brian Hancock, ACET's President and the Director of Infrastructure Policy and Product Development at Unisyn Voting Solutions.
"ACET and its members will advance policies and programs that support the use of election technology to ensure accurate, secure, and accessible elections," Hancock added.
ACET's members provide services for all phases of the election process, enabling voters to participate in elections with confidence that their votes will be accurately recorded and protected.
"With the formation of ACET, we hope to leverage our cumulative experience in election technology and services to keep the public and policymakers better informed about their voting systems," added Sam Derheimer, the council's Vice President and the Director of Government Affairs at Hart InterCivic.
"We look forward to engaging our federal and state counterparts as we demonstrate that technology can promote election integrity and security and offer the opportunity for voters to cast their votes privately and independently," said Brandon Clifton, Senior Vice President of Government Affairs at Election Systems & Software and ACET's Secretary/Treasurer.
The founding member organizations are:
• Dominion Voting Systems
• Election Systems & Software
• Hart InterCivic
• MicroVote General Corp
• Runbeck Election Services
• Smartmatic
• Unisyn Voting Solutions
• VOTEC Corporation
ACET's Executive Director is Michael Arceneaux.